If you want to see heaven on earth, come to Dubrovnik.
Even after eighty-seven years, we couldn't agree more with George Bernard Shaw. It is virtually impossible not to be charmed by the old town of Dubrovnik; an extremely good-looking historical gem jutting out from the Dalmatian coast. You may recognise its ancient city walls from the mega fantasy series that is Game of Thrones. One can almost imagine Daenerys Targaryen looking wistfully out to the glistening Adriatic Sea…minus the dragons and gory battles. In fact this image of Dubrovnik as a glamorous port isn't straying too far from the truth.
During its Golden Age (15th and 16th centuries) the town was a stomping ground for seafaring aristocrats of the Republic of Ragusa. Flash forward a few centuries and stone walkways have been polished and buffed from years of well-heeled traders and now hosts visitors, celebrities included, who yearn for the perfect balance of historical sights and chic Mediterranean lifestyle.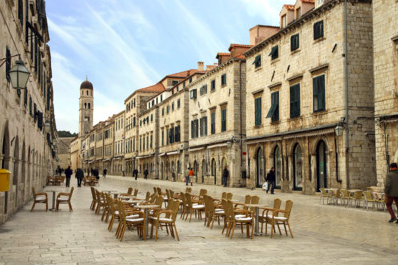 Why Go?
Dubrovnik's sublime scenery is only a two and a half hour flight away from the UK. Warm, crystal clear, Mediterranean waters surround the pedestrianised walled city. It's hugely photogenic with terracotta rooftops, baroque churches and cobblestone alleyways. Culture vultures can also enjoy evenings of live music and exquisite seafood dinners in the laid-back restaurants lining the harbour. If possible try to avoid peak season (July-August) when temperatures soar and the city becomes considerably busier. May/June and September/October are perfectly pleasant and you will also avoid high season rates.
Day One: 1pm
Your early morning flight has touched down in Croatia and you've checked into your hotel. Never argue with the urge to explore immediately, so head to the main Stradun to refuel on a staple local speciality: freshly baked, melt in your mouth, prsut (smoked ham) filled sandwiches. Walk along the medieval city walls (2km long and up to 25m high) with a local guide who will give you a fascinating introduction to Dubrovnik whilst you admire aerial perspectives of the city and the Adriatic's blue waters.
3pm
Stroll down the enchanting Stradun, the anchor to your new surroundings and then on to The Rector's Palace. Here you will find a fine example of 15th century gothic renaissance buildings with coats of arms, aristocratic portraiture and lavish furniture from the glory days.
For a slight change in tune but nevertheless on our list of recommendations, head to War Photo Ltd gallery which displays evocative images from some of the world's best war photographers. Dubrovnik's basilicas are also well worth a look in, even just for the picturesque stroll.
7pm
Start your evening with a sundowner at one of our all time favourite cliff side bars overlooking the water. Otherwise, some Croatian wines come highly recommended, all tried and tested by yours truly (there is nothing that we don't do for our clients) - and we can also arrange a private wine tasting.
Then dine like a Dalmatian at one of the city's unassuming restaurants that secretly serve up top notch seafood without the pretence. Book with us and our little black book is yours.
Day Two: 9am
This morning, grab a fig croissant and an espresso before you head out to sea on a kayak towards the densely vegetated Lokrum Island. Paddle through sparkling ripples venturing into sea caves and discreet inlets and dive into clear waters teeming with schools of fish, your private guide leading the way. You may want to keep lunch low key today, but nevertheless satisfying. Moor up on a small secluded pebbly cove for a picnic alfresco.
2pm
After your morning at sea, ride a cable car from the Old Town all the way up to Mount Srdj. People with vertigo look away now but we promise the views at the top will be worth it. With panoramic vistas to the sea and the undulating Herzegovina mountains, this is the perfect way to end your afternoon before your evening flight home.
If You're Going for Longer
Cross over to Montenegro on a day trip visiting the medieval towns of Kotor and Budva. Hop from beach to cove on a private boat in the Elaphiti Islands and take the afternoon to chill out on a beach. If you're in need of glamour, the swanky Eastway club on Banje beach will tick the box. Otherwise Sveti Jakov is a more charming, local affair.
Where To Stay
Dubrovnik has some fabulous boutique hotels but there are slim pickings if you want to step out straight into the old town… You have a choice of two hotels and the Pucic Palace comes up trumps. Quintessential Dubrovnik furnishing combined with its central location make it a no brainer, but the expense may have you looking into alternatives.
Just outside the city walls, the modern Hotel Bellevue is set amongst the cliffs with floor to ceiling windows and a short walk away from the old town. Villa Orsula is only five minutes away and its enviable landscaped gardens and decadent decor offers serenity after a day out in the old town.