Looking at Tommy Clarke's photographs is like laying eyes on the most enviable postcard that you have ever received.
His images are a visual punch of luscious colours and striking scenes that scream 'wish you were here' quite literally out of a helicopter. Whilst we crane our heads to see through aeroplane windows in order to catch a glimpse of a new country on arrival, Tommy dangles from the bottom of a helicopter to take his aerial shots. The results are nail bitingly good.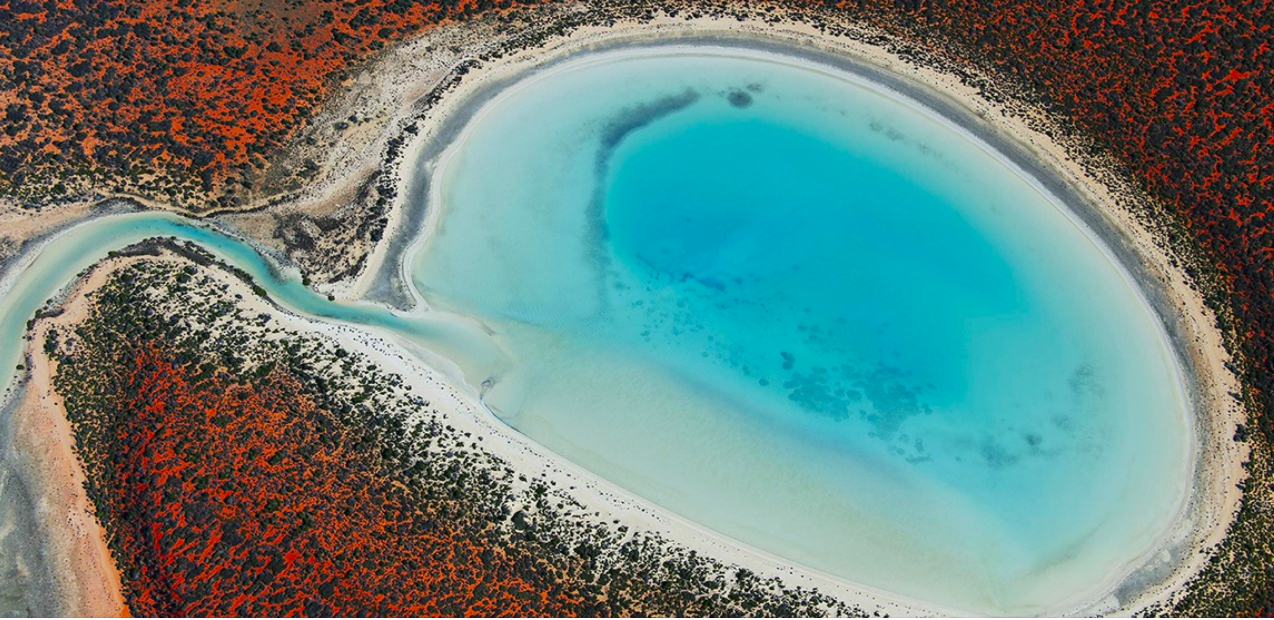 I am usually so focused on the job at hand that I tend not to notice if anything goes wrong, but we had a tail rotor mishap on a flight which meant we dropped and spun very suddenly.
Having previously worked in fashion, (his subjects included Kate Moss and Natalia Vodianova) much to our delight, his transition into aerial photography has provided him with a larger canvas.
Subtle ripples give sea based images underlining texture, whilst on St. Tropez shores, bright colour pops of garish beach towels and umbrellas make for attractive patterns in the sand.
Tommy depicts beauty in the randomness of two lone sunbeds in Cancun, or a group of snorkellers swimming above a coral reef. His Shark Bay collection softly illustrates ethereal landscapes with acute composition and his latest pictures of Utah's salt flats are enigmatic with artistry.
We talk to the photographer himself about his travel inspirations and his life from a bird's eye view:
What sparked your decision to move away from fashion and into travel photography and why aerial photography in particular?
I grew up near to the coast and have always found myself drawn to it. Even my fashion work usually ended up on location at a beach! But when I was working in Sydney, I truly fell in love with the coastline and found myself spending more time photographing it than fashion So I followed my heart and I haven't shot fashion for years!!
Tell us the story behind your latest collection of the salt flats in Utah. How did that come about?
I had always wanted to shoot the landscapes of the Salt Flats. I couldn't believe the colours were real; the blues, pinks and greens all divided up so artistically for me to capture. It took some planning and I had to convince a pilot to hire his helicopter for two hours to shoot a lake but it worked out well!
Any hairy moments whilst trying to take the perfect shot?
I am usually so focused on the job at hand that I tend not to notice if anything goes wrong, but we had a tail rotor mishap on a flight which meant we dropped and spun very suddenly. The pilot though cooly regained control and we carried on.
What's the coolest helicopter that you've ever hung out of?
I recently flew over the Cornish coast in a Hughes 500 which was built for the military and it was so agile!
Where did you go in Mexico and what did you love about it? Any recommendations?
I started up on Isla Mujeres and worked my way down the Yucatan to Tulum and stayed at a great place called Zamas beach. I ate incredible tacos and drank beers up and down the strip.
What are your essential travel items?
Funnily enough a camera or two, my Smythson travel journal, lap top and a pair of Maui Jim sunglasses
Any photography tips – Are you a Canon or a Nikon kind of guy?
I'm a Nikon guy! I think the rule of thirds is a great tool to learn. It's about framing the point of interest off centre… it's worth looking up!
What shot of yours has taken the longest 'airtime' to capture?
It took about 4 or 5 hours of flying over western Australia to capture my most recent Shark Bay series. It was well worth it though.
What's next?
Hopefully a holiday or work trip to South America!
Click on www.tommyclarke.co.uk see Tommy's work and to see the details of his future shows and exhibitions.